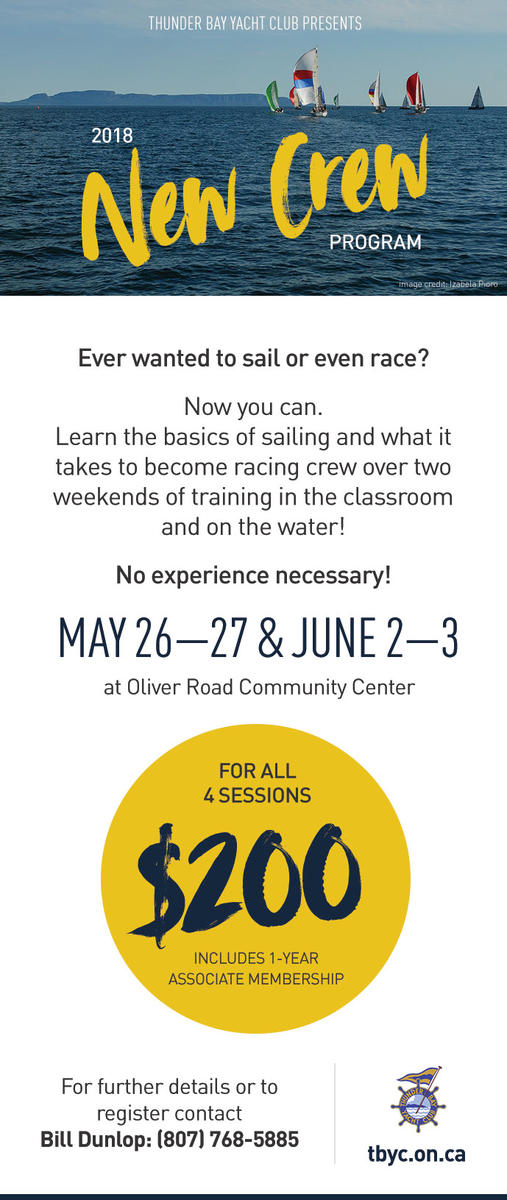 Have you ever wanted to learn how to sail, or even to join our yacht Racing program by crewing on one of our member's boats?
Experience the basics of sailing and learn what it takes to become a crew-member on one of the sailboats that you see in the harbour on those hot summer nights.
This introduction to sailing is open to Associate Members of the Thunder Bay Yacht Club.  An Associate Membership is easily obtained; please speak to the course organizer Bill Dunlop for more details.
The New Crew Program offers four in-class sessions and four on the water training races aboard our member keelboats.
Dates:
May 26/27 & June 2/3 2018
9AM - 12 PM - in the classroom
1PM - 3:30 PM - on the water
Location:
Oliver Road Recreation Centre (563 Oliver Road)
Cost:
$25 for TBYC Associate Membership 
$175 for all 4 sessions
Total cost $200 + HST
For more information and registration, please contact Bill Dunlop at 768-5885.